Chief Big Foot Band Memorial Ride – 25 years
South Dakota USA Wounded Knee Pine Ridge Reservation

For the past 25 years, Native American people have been riding, running and walking the route that Chief Bigfoot followed with his people, before they were massacred at the site of Wounded Knee in Pine Ridge, South Dakota. This year, to honor the 25th anniversary of the Chief Big Foot Band Memorial Ride and the 125th anniversary of the massacre, we inaugurate a 4 year cycle for global ceremony to end massacre and all that massacre means and to finally heal our hearts.
Wounded Knee becomes a focal point for healing ceremonies and activities to heal the multi-lineal, multi-generational wounds of humanity. Through ceremony and other healing modalities, we are engendering the healing process for indigenous and non-indigenous communities worldwide; by recognizing the core wounds of humanity, participating in ceremonies and activities of healing, and creating opportunities for everyone to heal…
link for the news report and the history
The Tragic Life Of John Trudel
His goal was very simple, to communicate the human experience at a level that human beings can recognize and relate to. John Trudell was an American Indian activist, poet, writer, actor, and musician.
I wish I could have met this man in my lifetime, he seemed to have the power in his words to change the world. Was he born with this gift to put a powerful way of thinking into people's minds?
Let's find out more about The Tragic Life Of John Trudell.
link for the webside
15.11.2021
In the final chapter of the Mishomis Book, authored by Eddie, he said that some ppl believe the Cheyenne & Arapaho were part of the migration of the Ojibwe. It has been established and verified archaeologically and through ceremony the ancestors of the C & A did stop in Wisconsin and Minnesota for a time but continued on to the plains thus becoming plains Natives, acquiring other ceremonies, the Sun Dance, etc. Our ancestors then became allies with the Lakota. The old ppl of the C & A tell of a time when our ppl lived in the northeast, what is now Canada and the northeast coast of the this country.
Watch the video
09.11.2021
Pressure Mounts on President Biden to Revoke the Medals of Honor
for the Wounded Knee Massacre
Earlier this month, 17 members of Congress wrote a letter to President Joe Biden to pressure him to use his authority to revoke the Medals of Honor given to soldiers who participated in the Wounded Knee Massacre.
The letter was authored by U.S. Senators Elizabeth Warren (D-MA) and Jeff Merkley (D-OR), and Rep. Kaiali'i Kahele (D-HI), along with other 14 lawmakers.

link for the report and the letter
03.11.2021

Leonard Peltier:
Dennis Banks was one of the greatest Indian warriors of our time
The following statement from imprisoned American Indian Movement activist Leonard Peltier was delivered via the International Leonard Peltier Defense Committee. Today, let my voice join in harmony, with the brothers and sisters of the American Indian Movement, to address our great loss of your father, grandfather, brother and friend, Dennis J. Banks. When I heard he was going to have heart surgery, I was praying for a speedy recovery. Three weeks prior to Dennis having surgery, I had a triple bypass open heart surgery with good results, so I was shocked to hear he was having problems.
link for the report

25.10.2021
Voice, Choice, and Power:
Healing Intergenerational Trauma with Dr. Ruby Gibson
Dr. Ruby Gibson (Lakota, Ojibway, Mestiza), cofounder and executive director of Freedom Lodge, a nonprofit organization in Rapid City,
South Dakota that provides historical and intergenerational trauma healing
to Native American communities, shares her work on Somatic Archaeology© and its healing potential.
She is the author of My Body, My Earth: The Practice of Somatic Archaeology.
link for the report and the interview
The Buffalos are coming back
Indian Buffalo Management Act intends to allocate $14 million for tribal bison herds
link for the video and the report
24.10.2021
Site of 'Great Swamp Massacre' returned to Narragansett Indian Tribe
The site where English colonists massacred hundreds of Narragansett Indians more than 345 years
ago has officially been returned to the tribe in a land transfer that's being described as monumental.
link for the video and the report
23.10.2021
Deb Haaland, A Living Testament
The path to becoming the nation's first Native interior secretary
SHAYAI LUCERO watched Deb Haaland's confirmation hearing from her flower shop on the Laguna Pueblo.
She knows Haaland and her extended family.
The floral business Lucero runs out of her converted garage used to belong to Haaland's sister.
link for the story
10.10.2021
GOOD NEWS SIERRA CLUB
This is a great feeling. Today, three national monuments — Bears Ears, Grand Staircase-Escalante, and Northeast Canyons and Seamounts — were finally restored. We've been waiting for this day since 2017 when Trump illegally stripped protections from these monuments as a gift to his buddies in the oil, gas, and minings industries.
The Bears Ears restoration is a huge victory for the Inter-Tribal coalition of the Navajo Nation and the Hopi, Ute Indian, Ute Mountain Ute and Pueblo of Zuni Tribes that spent years lobbying for the monument to be created — and then kept up the fight after Trump tried to dismantle it.
In the words of Chairman Shaun Capoose of the Ute Indian Tribe, "President Biden did the right thing restoring the Bears Ears National Monument. For us the Monument never went away. We will always return to these lands to manage and care for our sacred sites, waters and medicines…. We battled for this Monument because it matters."

The board of Grand Staircase-Escalante Partners said, "This act of preservation safeguards the thousands of unique plant, animal, and insect species that rely on the ecosystems connected throughout the Colorado Plateau. It enables world-renowned research opportunities for paleontology and climate change. And it honors the sacred landscape home to Indigenous Peoples, including the Paiute, Hopi, Zuni, Dine/Navajo, Ute, Jemez Pueblo, Ute Mountain Ute, and Acoma nations."
And of course, millions of people sent public comments, made phone calls, attended webinars, and showed up at protests in support of monument protections — even if they'd never visited these places in person. All of that work has finally paid off, and we hope you can take a moment to savor the victory.
Together, these three monuments cover over 5 million acres of canyon, forests, desert, and ocean. Protecting them is an important step towards our goal of conserving 30% of our lands and waters by 2030. Over the past 25 years, Grand Staircase-Escalante has also been proof that monument designations can help local economies flourish. These actions set a path forward for a better future for everyone.
Thank you for your activism, Carly Ferro
Utah Chapter Director
17.09.2021
True Story:
Native American Women Warriors in American History
When the Europeans first began arriving on this continent they were amazed that
Indian women were very much unlike European women.
Indian women were not subservient to men, they often engaged in work – such as farming and warfare – which the Europeans
viewed as men's work,
they had a voice in the political life of their communities, and they had control of their own bodies and sexuality.
Unlike the patriarchal European societies, Indians were often matrilineal, a system in which people belonged to their
mother's clans or extended families.
When Indian people spoke of a neighboring tribe as "women" or as "grandmothers", the Europeans often misinterpreted this compliment
as a derogatory statement.
During the nineteenth century Indian women, and particularly Indian women leaders, were invisible to the American government.
Some Indians have gone so far as to say that the Americans were so afraid of Indian women that they would not allow them to
sit or speak in treaty councils with the United States government. Even today,
Indian women are conspicuous by their absence in American history.

link for the whole story
16.09.2021
Hillerman mystery thriller to film on Navajo
the link for the report
Director Sterlin Harjo talks 'Reservation Dogs'
'Not in Oklahoma,' they said. Harjo never stopped. He showed the world what's possible when an Indigenous creator is believed in
link for the report
11.09.2021
Did you know? Today, there are 574 officially recognized Indian tribes in the United States. For many American Indians, family history is something to explore. Finding out which tribe their families belong to, its traditions and the impact on their daily lives is important and there are resources available to assist in your search. To get started:
• Gather your oral history.
• Sort through documents and photos.
• Check public records.
• Go to your local library.
• Check other repositories
Start your family tree and work your way back in time.
https://www.doi.gov/tribes/trace-ancestry
08.08.2021
30.07.2021
'Homecoming': 100 years after forceful removal, Nez Perce people celebrate reclaimed land
JOSEPH, Oregon — Vice-Chairman Shannon Wheeler has been dreaming about this day for years.
On Thursday, more than 150 Nez Perce (Niimiipuu) people returned and blessed part of their homeland, a hundred years after the U.S Army drove them from the Wallowa Valley in eastern Oregon.
link for the video and interview
They were driven from their land in 1877 by U.S. soldiers. Now the Nez Perce tribe is home again
link for the report
26.07.2021
How the Women of Standing Rock Inspired the World
Documentary filmmaker Shannon Kring first heard about the protests at Standing Rock while she was living and working in Honduras.
link for the video and the report
25.07.2021
On Pine Ridge Reservation, a Garden Helps Replace an 80-mile Grocery Trip
link for the report
A Rosebud native transferred to Dell Rapids St. Mary to follow his dreams. Now he has a college football scholarship
link for the report
The Apache Artist
link for the report
Women walk the Enbridge route to pray for clean water
The group plans to walk along the path of the Line 3 Enbridge replacement pipeline from Superior, Wis., to the North Dakota border, finishing about July 29.
link for the report
Chief Crazy Horse: The Red Man has Great Heroes Also
Resting high above the treetops of the Black Hills (Paha Sapa), sacred lands of his people, a monument of Crazy Horse (Tȟašúŋke Witkó), legendary Oglala Lakota warrior, acts as a sentinel and symbol of a proud people.
link for the report
16.07.2021
Register to watch the new Film TIME OF THE SIXTH SUN
DREAMiNG OURSELFES AWAKE
wath it now

07.07.2021
06.06.2021
Honoring Chief Crow Dog, His Many Gifts, and Wishing Him A Peaceful Journey
By Rodney Bordeaux President, Rosebud Sioux Tribe
rosebudsiouxtribe-nsn.gov
Leonard Crow Dog was a powerful Wicasa Wakan, Holy Man, with a beautiful vision of the Sacred Mystery of the Universe.
Leonard was in touch with the sacred power that connects all of us and the Creation. As a young man, Leonard Crow Dog learned from his father Henry Crow Dog and Lakota elders. He did not go to school, instead his parents enlisted four medicine men to guide his education. Throughout his life, Crow Dog learned from the University of the Universe, as he would say, and he shared his understanding of WoLakota with our Sicangu Oyate, the Oceti Sakowin, and Peoples of all Nations.

18.04.2021
ABOUT BRIGHT EYES
Bright Eyes is the true story of Susette La Flesche, a well-known Native American writer, lecturer, interpreter, and artist of the Omaha tribe in Nebraska.
La Flesche, whose Omaha Indian name, Inshata Theumba,
translates to "bright eyes,"
was a spokesperson for the Omaha and Ponca tribes,
and was instrumental in facilitating the court case
of Standing Bear vs. General George Crook in 1879.
The ruling of that landmark civil rights case was that Native Americans are "persons within the meaning of the law,"
and citizens with certain rights under the U.S. Constitution.
link to the webside and informations about the true story
13.03.2021
16.02.2021
Illahee Spirit Runners – Indigenous Resistance
Webside for the aktivities – klick here
14.02.2021
Extract of medicinal plant Artemisia annua interferes with replication of SARS-CoV-2 in vitro
Now, researchers at Columbia University in New York, the University of Washington, and Worcester Polytechnic Institute have demonstrated that hot-water leaf A. annua extracts based on artemisinin, total flavonoids, or dry leaf mass show antiviral activity against SARS-CoV-2.
link for the report and the good news
30.01.2021
Tȟokáta Hé Miyé – My Name Is Future
Tell President Biden to shut down the Dakota Access Pipeline
A film by the Standing Rock Sioux Tribe and Earthjustice
Written and Directed by Josué Rivas
Narrated by Grace DeRockbrain (Standing Rock Sioux Tribe)
Cinematography by Josué Rivas, Adam Johansson. Drone2Bwild, Digital Smoke Signals, Akicita Film
Edited by Dylan Sylwester
Audio by Natalie Huizenga
Community outreach and recording by Sunshine Woman Grace DeRockbrain, Teena Pugliese, AnnaLee Yellow Hammer
Translation by Doug Goodfeather
link for the sigining and the news about it
Tȟokáta hé miyé
tĥawáčhin mitĥawa thimáhel kiksúya éyaš čhanté kiŋ ečhétuke šni
Tȟatúye tópa etáŋhaŋ mníčiyapi
2016 Íŋyaŋ Woslál Háŋ
Héčhiyataŋ tȟokáheya ečhúŋpi
Wičhúŋkičhopi na kȟoktápi wakpá kiŋ ahí naháŋ naúŋkičižiŋpi
Wóčhekiya yuhá uŋhípi éyaš hená wípȟe yuhá ahípi.
Eháŋni wičhówoyake kiŋ ékiktuŋžapi šni
héhaŋ waníyetu óta héhaŋ, Mílahaŋska kiŋ Trump kaȟníǧapi
awí-uŋgnunipi éyaš uŋkásotapi šni
Héhaŋ waníyetu akétopa henámakča
2020 héhaŋ, Ikčéwičhaša óta wičháčhaže oíȟpeyapi
Joe Biden uŋkáȟniǧapi na hé uŋkísakhib nážiŋ
DAPL inážin čhíŋ čha líla škíŋčiye
Našílyapi kiŋ aphíyiŋ kta tȟawáčhiŋ
Mní kiŋ wašté na wótakuye waúŋš'akapi
Uŋčí Makȟá awáŋglag tȟokátakiya maúŋnipi kte
tĥawáčhin mitĥawa thimáhel kiksúya éyaš čhanté ečhétuke šni

27.01.2021
Thanks, Joe Biden
On day one of his presidency, Joe Biden signed executive orders to scrap plans for future drilling in the Arctic National Wildlife Refuge, cancel the Keystone XL tar sands pipeline, and rejoin the Paris Climate Agreement. Later this week, he is expected to sign another passel of executive orders to protect the climate. People like you helped put climate high on the Biden administration's agenda for its first 100 days. Just imagine what we can accomplish over the next four years working with a president who prioritizes climate and the environment.
28.01.2021
Biden campaigned on big promises to address climate change and environmental injustice.
Today he signed a package of executive orders mobilizing the federal government to tackle these crises and move towards a pollution-free, clean energy future.
Here's what the orders do:
here is the link for the 6 positiv things he do

Send President Biden a thank you and urge him to keep it up.
link for to do it
28.01.2021 more good news from the new President
Washington DC – On January 26, 2021,
President Biden signed a Presidential Memorandum titled, "Memorandum on Tribal Consultation and Strengthening Nation-to-Nation Relationships," implementing Executive Order 13175 ("the Executive Order"), "Consultation and Coordination With Indian Tribal Governments." Today's Memorandum reaffirms the policy announced in the Presidential Memorandum of November 5, 2009 and recognizes the federal trust and treaty obligations to tribal nations.
here the link for all the good things
21.01.2021
The big miracle happen . . . . The new president of the USA Joe Biden
stopped the Keystone XL Pipeline
WE PRAY – WE WIN
december 9, 2020
Montana Supreme Court Deals Final Blow to Mining Plan Near Yellowstone
A giant gold mining project proposal near Yellowstone National Park is officially dead, and Montanans' right to stop such unlawful projects is upheld, with far-reaching impacts.
link for the good news and the facts
november 29, 2020
Honoring Debra White Plume, Oglala Lakota
OWE AKU "Bring Back the Way"
Respect Existence or Expect Resistance
"It's hard to be proud of your cultural heritage and traditions if every day you face extinction." –Debra White Plume
Debra White Plume is a Lakota grandmother and founder and director of Owe Aku (Bring Back the Way), a grassroots non-profit devoted to preserving and revitalizing the Lakota Way of Life.
Moccasins ARE on the Ground
STOP FAT TAKERS HURTING MOTHER EARTH
Owe Aku's Moccasins on the Ground gathering is an ongoing training in preparation for direct action against the pipeline and other threats to Mother Earth should federal government policies support the tyranny of corporate greed.
The Intergenerational gathering with a new and unique power to them has always been a cornerstone of the Lakota Oyate. Ikopi sni lakot lya po (speak with no fear).
OWE AKU "Bring Back the Way"
Owe Aku works to bring back our way of life which includes humanity's role in nature: we are a part of it, not outside of it, not having dominion over it.
To achieve this Owe Aku works to stop mining that contaminates our water and land. Owe Aku has reestablished programs that utilize the wisdom of our ancestors in combatting the effects of inter-generational trauma caused by colonization and the intentional attempts for hundreds of years to destroy our culture.
In the Lakota Language Owe Aku means Bring Back the Way. In bringing back the way, we strive to offer alternatives, based on traditional knowledge, that respect the changing environmental conditions of Mother Earth, and which will ultimately benefit the peoples and ecosystems of the planet.
The environment, upon which we are all dependent, is no longer just an issue for Indigenous peoples. On every continent, Indigenous cultures offer viable alternatives because we recognize the Earth, not as a commodity to be exploited, but as a relative that protects and preserves our very existence and the existence of future human generations.
Decisions are always made collectively first with the grassroots leaders of our tiyospaye (extended family or clan) and our direct allies.
The people of our tiyospaye founded Owe Aku "Bring Back the Way" and have continued to direct its activities and make decisions based on the traditional Lakota principle of consensus.
Respect Existence or Expect Resistance
kopi sni lakot lya po (speak with no fear)
november 28, 2020
november 20, 2020
The case for a Native American secretary of the interior
Indigenous leaders are calling for Biden to name Deb Haaland to head the department.
She would be the first-ever Native American Cabinet secretary.
President-elect Joe Biden already made history by selecting Kamala Harris, the first Black and South Asian American woman to be elected vice president of the United States. He is also building a transition team that's shaping up to be majority women and people of color. Now, tribal leaders, environmental activists, and more than 50 House Democrats are urging Biden to break barriers further by appointing the first Indigenous person to serve as Cabinet secretary.
link for the Report
october 28, 2020
october 16, 2020
august 23, 2020
We are all one family – It is now
To be released by Publishers, Simon and Schuster, September 1, 2020~Chapter 9~Overview Prophecies, Dynamic Change, and a New Global Civilization
We are witnessing a growing Global Storm visibly sweeping the face of our Mother Earth. This Global Storm will prove, unless we awaken, to be unprecedented in its violence,
unpredictable in its course, and sometimes catastrophic in its immediate effects. It appears that no place on Mother Earth is protected from the cleansing, healing, and unifying power of this Global Storm.
A New Global Civilization
The vision of a new global civilization is a promise found in spiritual and prophetic sources from Indigenous prophecies, such as Black Elk Speaks, the major Prophets, the Call to the Nations, the Universal House of Justice, and many elders, spiritual teachers, and faith traditions everywhere on Mother Earth.
This new global civilization, which Indigenous peoples and other related prophecies speak of, is not to be confused–even remotely–with the various new world orders fearfully alluded to by various contending sources. It is not a new world order where the extremely wealthy or a secret elite enslave most of humanity for their own selfish and greedy purposes, where everyone is forced to look, act and think the same, or where anyone nation-state dominates all others.
There are many ways and perspectives to view and understand prophecies and spiritual teachings. From the perspective of my Indigenous Circle, the understanding of the concept, the Honor of One is the Honor of All, also reflects the view that our individual growth and development as individuals are mirrored in our collective growth and development as a Human Family.
It is my heartfelt conviction, experience, and conscious faith that we are approaching, after a process of many millennia, the manifestation of our Spiritual Maturity, the beginning of our Young Adulthood, as a Human Family. We have journeyed from our Collective and Individual Infancy to the threshold of our Collective and Individual Maturity—an Epoch Stage that will witness the Unification of our Human Family and the Realization of Peace on Earth.
Consider how each of us, as individuals, passes through Infancy, Childhood, and then through the challenging and dynamic Stage of Adolescence, a profound period where unexpected potentialities and capacities are revealed and manifested. Our Human Family, as a whole, is in an unprecedented transformation and transition.
The turbulence and commotion of our lives today are simply the fits and starts of our Human Family struggling to come of age. In this dynamic process, widely accepted practices and conventions, beliefs, cherished attitudes, and habits are one by one being rendered obsolete, as the imperatives of our spiritual maturity continue to dynamically manifest.
Our success in building this new way of life leading to an equitable, balanced global civilization, now unfolding, is based on our full commitment to the unfettered and independent investigation of the truth for ourselves. The obligation of each human being to acquire knowledge and understanding through their "own eyes and not through the eyes of others" requires our very careful, in-depth reflection, consideration, and investigation of the sources from which we receive our "news."
Once people know for themselves, they will change the way they feel, speak, and act. This knowledge is rooted in gaining an ever-deepening spiritual understanding and purpose in our lives and requires changing how we live together as a Human Family.
This new global civilization, foretold by our Indigenous prophecies, including the Eighth Council Fire, the Return of the White Buffalo, The Peacemaker, Quetzalcoatl, Sweet Medicine, Black Elk, the Hopi, Vira Cocha and many others, is founded on the unshakable consciousness of the Oneness of the Human Family and all Life. From this consciousness naturally unfolds the realization of:
The Equality of Men and Women
The Balancing of the Extremes of Wealth and Poverty
The Elimination of All Prejudices
The Unity of Science and Spirituality Universal Education
The Independent Investigation of Truth, and Unity in Diversity
august 21, 2020
Warrior Woman Project
Video: W.A.R.N. Ride
In December, a group of women from the Fours Bands of the Oceti Sakowin— the Minnicoujou, Itazipco, Siha Sapa, and Oohenumpa— made a symbolic horse ride on the western edge/border of the Cheyenne River Reservation where the TransCanada KXL Pipeline will construct temporary workforce housing, commonly known as a "man camp."
The ride signifies a stand against the violence and human trafficking that will increase with the establishment of this "man camp" near the border of the reservation. The ride idea originated with some of the original members of Women of All Red Nations (W.A.R.N.), a Native women's activist group founded in 1978 to fight for and protect the lives of Native women, families, and the Earth.
link to watch the video about the Movement from the Warrior Womans
to protect the following generations
august 10, 2020
The Dakota Access Pipeline is still flowing (illegally)
Dear Kossack, Last month, the Standing Rock Sioux Tribe won a huge victory in court — an order requiring the Dakota Access Pipeline (DAPL) to be shut down while a full environmental impact statement (EIS) is conducted. The owners of the pipeline pushed back quickly, arguing it was unfair for them to have to shut off the pipeline during the review.
link for the report
july 15,2020
Mitch Walking Elk at the OKC Land Protest
july 1, 2020
Cheyenne River Sioux Chair Offers to Rip Down Mount Rushmore—"Free of Charge… By Myself If I Must"
"Nothing stands as a greater reminder to the Great Sioux Nation of a country that cannot keep a promise or treaty than the faces carved into our sacred land on what the United States calls Mount Rushmore."
link for the News Report and the Story
another link for radio report and MORE about Mount Rushmore
mai 25, 2020
Holy Land Living Water ~ Film Premiere
Four Worlds International Institute
During the first week of February 2020, UNITY EARTH, URI, EcoPeace, and other partners brought 94 spiritual leaders to the Middle East for a special event "Holy Land Living Water". The group travelled for 7 days to sacred sites in Jordan, Palestine and Israel. The journey was part of the U Day Festival series of events, building on Ethiopia 2018 and Thailand 2012.
april 24, 2020
Native Americans being left out of US coronavirus data and labelled as 'other'
Native AmericansMisclassification raises fears of hidden health emergencies in one of the country's most vulnerable populations
link for the report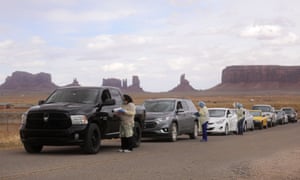 april 19, 2020
I see so much blame and anger in the world right now.
People don't feel they have power and are looking for someone or something to blame.
Stop it! Now isn't the time to blame.
It's not time to worry about political parties, the color of someone's skin or their religion. The illness doesn't care about those things.
The disease will grow within someone causing as much damage as possible while spreading to others…growing and becoming more powerful.
Like the disease our choices grow within us and spread to those around us. We can choose to grow hate and spread that in the world or we can nurture compassion, understanding and love then choose to spread that.
Those choices begin within the family and now we are spending more time together than in the recent past.


This is the time to truly pray and think about who you want to be and the story you want to leave behind. Let us place less importance on our differences or things we can't control. Let us find common ground, learn from one another, share traditions and learn to love. Maybe when we stop using the things we can't control as an excuse we can stop the bad feelings and grow as a people.
april 7, 2020
Prophecy by Floyd Westermann
"We were told that we would see America come and go. In a sense America is dying, from within, because they forgot the instructions of how to live on earth. It's the Hopi belief, it's our belief, that if you are not spiritually connected to the earth, and understand the spiritual reality of how to live on earth, it's likely that you will not make it.
Everything is spiritual, everything has a spirit, everything was brought here by the creator, the one creator. Some people call him God, some people call him Buddha, some people call him Allah, some people call him other names. We call him Tunkaschila… Grandfather.
We are here on earth only a few winters, then we go to the spirit world. The spirit world is more real than most of us believe.
The spirit world is everything. Over 95% of our body is water.
In order to stay healthy you've got to drink good water. … Water is sacred, air is sacred.

Our DNA is made out of the same DNA as the tree, the tree breaths what we exhale, we need what the tree exhales. So we have a common destiny with the tree.
We are all from the earth, and when earth, the water, the atmosphere is corrupted, then it will create its own reaction. The mother is reacting.
In the Hopi prophecy they say the storms and floods will become greater.
To me it's not a negative thing to know that there will be great changes.
It's not negative, it's evolution. When you look at it as evolution, it's time, nothing stays the same.You should learn how to plant something. That is the first connection.
You should treat all things as spirit, realize that we are one family. It's never something like the end. Its like life, there is no end to life."
Floyd Red Crow Westerman
april 5, 2020
april 4, 2020
Message from Cindy Catches Oceti Wakan
Thank you for sharing this wisdom with us
april 2, 2020
Message from a Hopi Elder to the Change of this:
Message from White Eagle, Hopi indigenous on 03/16/2020:
VISION QUEST 🔥👁️
"This moment humanity is going through can now be seen as a portal and as a hole.
The decision to fall into the hole or go through the portal is up to you.
If you repent of the problem and consume the news 24 hours a day, with little energy, nervous all the time, with pessimism, you will fall into the hole. But if you take this opportunity to look at yourself, rethink life and death, take care of yourself and others, you will cross the portal.
Take care of your homes, take care of your body. Connect with your spiritual House.
When you are taking care of yourselves, you are taking care of everything else. Do not lose the spiritual dimension of this crisis, have the eagle aspect, that from above, and see the whole; see more broadly.

There is a social demand in this crisis, but there is also a spiritual demand. The two go hand in hand. Without the social dimension, we fall into fanaticism. But without the spiritual dimension, we fall into pessimism and lack of meaning.
You were prepared to go through this crisis. Take your toolbox and use all the tools available to you.
Learn about resistance of the indigenous and African peoples: we have always been and continue to be exterminated. But we still haven't stopped singing, dancing, lighting a fire and having fun. Don't feel guilty about being happy during this difficult time.
You do not help at all being sad and without energy. You help if good things emanate from the Universe now. It is through joy that one resists. Also, when the storm passes, each of you will be very important in the reconstruction of this new world.
You need to be well and strong. And, for that, there is no other way than to maintain a beautiful, happy and bright vibration. This has nothing to do with alienation.
This is a resistance strategy. In shamanism, there is a rite of passage called the quest for vision. You spend a few days alone in the forest, without water, without food, without protection. When you cross this portal, you get a new vision of the world, because you have faced your fears, your difficulties …
This is what is asked of you:
Allow yourself to take advantage of this time to perform your vision seeking rituals. What world do you want to build for you? For now, this is what you can do: serenity in the storm. Calm down, pray every day. Establish a routine to meet the sacred every day.
Good things emanate; what you emanate now is the most important thing. And sing, dance, resist through art, joy, faith and love. "
Resist – Be reborn
White Eagle has spoken
march 30, 2020
All The Medicinal Plants Of North America
Discover The Forgotten Power of Plants with Nicole Apelian
link for the video

Including 3 Important Plants to Support Your Immune System
march 23, 2020
march 18, 2020
The Creator of the Corona Virus
march 13, 2020
Ayurvedische Version about the Corona Virus
Protection and all about it
march 2, 2020
Chris Griscom Talks About Coronavirus
february 27, 2020
Democratic presidential candidate, former New York City Mayor Michael Bloomberg speaks at the U.S. Conference of Mayors' Winter Meeting, Wednesday, Jan. 22, 2020, in Washington.
Democratic presidential candidate Mike Bloomberg releases his plan for Indian Country
Presidential candidate Michael Bloomberg announced a formal policy plan Thursday to "uphold tribal sovereignty and improve the lives of Native Americans." The plan was published on Bloomberg's campaign website.
link for the good good news
february 13, 2020
Kanahus Manuel "Native Peoples can shut this whole country down!"
february 6, 2020
'Colonialism In All Its Ugliness': Indigenous Land Defenders Condemn Violent Police Raid on Camp Blocking Pipeline Construction
"We are in absolute outrage and a state of painful anguish as we witness the Wet'suwet'en people having their Title and Rights brutally trampled on and their right to self-determination denied."
link for the report
Protesters block intersections in support of Wet'suwet'en hereditary chiefs
VANCOUVER — Protesters blocked an intersection in East Vancouver near the entrance to the city's port Thursday afternoon, calling their actions a "blockade" of the port in response to arrests along the planned route of the Coastal GasLink pipeline near Houston, B.C., Thursday morning.
link for the video and the news report
January 14, 2020
Māori water rights case aims to stop water bottlers
link for the Report
Native American veterans still struggling to get the health care they were promised
link for the report
january 13, 2020
Outrage In Canada After Militarized RCMP Arrest 14 Wet'Suwet'en Land Defenders on Sovereign Indigenous Land
Solidarity protests erupt across Canada while Justin Trudeau faces hostile questions about indigenous rights in British Columbia
Revolution and American Indians: "Marxism is as Alien to My Culture as Capitalism"
By Russell Means / blackhawkproductions.com / Nov 12, 2011
link for the Report
January 5, 2020
US should return stolen land to Indian tribes, says United Nations
January 4, 2020
This is a news report about a year old about how meth was brought to our reservation by the Mexican cartel.
How life has changed here since that happened.
So many of my young relatives are using it and getting them into trouble that never happened here before.
Prayers are asked for and thank you. Cincy Catches Oceti Wakan
December 23, 2019
13 years old girl was nominated for the Global Peace Price
link for the news report
December 20, 2019
Lyla June Johnston: Let's End Our National Addiction to Oil
It is with much excitement that we share the news: Lyla June Johnston, internationally recognized musician, public speaker, water protector and scholar of Diné and Cheyenne lineages — featured in our Women of Standing Rock series — is running for office. We share her announcement and the live feed of her announcement speech here, with more to come soon.
link for the video and the report
November 2019 Heritage Month
6 Thanksgiving Myths and the Wampanoag Side of the Story
Native American Girls Describe the REAL History Behind Thanksgiving
6 Native American girls school us on the REAL history of Thanksgiving
link to watch the truth
November 29, 2019
The Deacons; the black armed Christians who protected MLK, civil rights supporters before Black Panther
Given that African-Americans were an easy target in the 1950s and 1960s, the Ku Klux Klan – the white supremacist group – had a free reign, terrorizing and even murdering civil rights supporters.
The incessant attacks were so frequent that many civil rights workers armed themselves for self-protection. Even the home of Dr. Martin Luther King Jr. had so many guns during the 1950s that one visitor called it an "arsenal."
link for the news report
November 22, 2019
Its a shame – now the make law that people what protecting the water,
get arrested – and this in the 21 th century
Wisconsin Governor Signs Bill Criminalizing Pipeline Protesters
link for the news report
Oktober 21, 2019
Native American tribe regains island taken after 1860 massacre
Oktober 18, 2019
Tribes Are Pushing Washington to Be the First State to Declare a Climate Emergency
link for the News Report and the Action
Oktober 7, 2019
Here are five young activists raising their voice against climate change, and urging the world to wake up to the growing crisis.
The link for the Report and the Actions
September 30, 2019
Australian Aboriginals To Get Billions In Compensation for
Land & Spiritual Loss
Aboriginals in Australia have won a pioneering and monumental case that paves the path for billions of dollars in compensation claims for their colonial land that were lost. This compensation also covers for the loss of religious association.
Read more about it here
September 30, 2019
Native American tribe becomes first to pass hate crime law protecting
LGBT people
The Oglala Sioux Tribe may have become the first Native American tribe to introduce a hate crime law protecting LGBT+ and two spirit people.
read here for the report
September 25, 2019
Chief Standing Bear
Who Fought for Native American Freedoms
Is Honored With a Statue in the Capitol
'That hand is not the color of yours,
but if I pierce it,
I shall feel pain,'
the chief famously said during a landmark 1879 trial
Klick here and read it
September 23, 2019
Indigenous women traveled 3,000 miles to save an Alaskan forest
from Trump
This story was originally published by Mother Jones and is reproduced
here as part of the Climate Desk collaboration.
link for the NEWS
September 6, 2019
Relearning The Star Stories Of Indigenous Peoples
How the lost constellations of indigenous North Americans can connect culture,
science, and inspire the next generation of scientists.
by Christie Taylor
Klick here and you see the report and the stories
August 26, 2019
Female Chief in the Amazon is on a Mission to Save the Rain Forest
As the wildfires rage on in the Brazilian Amazon, Ajareaty Waiapi is attending school at age 59 to educate herself and the rest of the world about saving and conserving the world's largest tropical rain forest.
link for the Report and Video
May 30, 2019
Navajo Mark Charles Announces He is Running for President in 2020
Wants "We the People" to Mean "All the People"
by Levi Rickert
Klick here an you see the reprot and the video

May 15, 2019
Amazon Tribe Wins Lawsuit Against Big Oil, Saving Millions Of Acres Of Rainforest
May 7, 2019
Indigenous matriarchs stand together in dark times. . .

A group of eight North American Indigenous elder women, weathered in front-line resistance, fluent in their languages and rich in traditional teachings, have joined forces to protect the sacred knowledge needed for future generations to face a climate in crisis.
The Spirit Aligned Leadership Program chose the eight women from over 200 applicants, from across North America, naming them as Legacy Leaders, acknowledging their lifelong commitments to their cultures and communities. It is the second circle of legacy leaders who will participate in the fellowship intended to strengthen their sisterhood, share their life teachings, and plan pathways forward.
The women are Haida, Cheyenne, Cherokee, Ojibwe, Ute and beyond.
link for the news report
April 3, 2019
New Mexico Will Celebrate Indigenous Peoples' Day Instead Of Columbus Day From Now On
March 19, 2019
These Haunting Red Dresses Memorialize Murdered and Missing Indigenous Women
Artist Jaime Black says the REDress Project is an expression of her grief for thousands of Native victims
Native women are disproportionately affected by violence. A 2016 study by the National Institute of Justice estimated that 84 percent of American Indian and Alaska Native women have experienced violence in their lifetime compared to 71 percent of non-Hispanic white women.

August 17, 2016
KOLC-TV went on location to Cannon Ball North Dakota to report on the Dakota Access Pipeline rally that was being held on near the Standing Rock Sioux tribes lands.
The person speaking is Jon Eagle Sr., tribal Historical Preservation Officer. Could not get his name when editing this peace for a lower thirds title placement, sorry. Will add when we do longer piece.
This report came on August 17th 2016. It is a short piece taken from our footage. A longer report will come later.

July 27, 2016
David Bald Eagle, Lakota Chief, Musician, Cowboy And Actor, Dies At 97

March 24, 2016
Indigenous Women Unite to Defend the Amazon, Mother Earth and Climate Justice
Klick here an read the report

Februar 20, 2017
In a fresh start in customary forest recognition by the State, President Joko Widodo bestows the right to manage customary forests on nine indigenous communities
1988 Performance Floyd Westermann
Elder Dennis Banks (Nimishoomis Nowa Cumig): Chippewa-Ojibway – Knee '73, Standing Rock